TISH FAPPANI CLAIMS A DECISIVE VICTORY IN THE LEVEL 4 NON PRO FINALS WITH LITN UP CONQUISTADOR.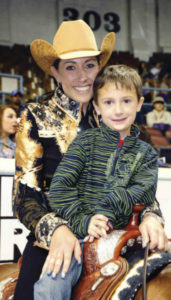 SCORING AN IMPRESSIVE 221 TO TOP THE LEVEL 4 NON PRO division by a 6.5-point margin, Tish Fappani won her first Cinch® NRHA Non Pro Futurity title aboard Litn Up Conquistador. A strong run with smooth transitions, punctuated by huge stops, Fappani and the gelding by Conquistador Whiz out of the mare Aleena Starlight, by Million Dollar Sire Grays Starlight, were the decisive winners, which earned the pair a check worth more than $43,000.
The title event took place December 3 as part of the 2010 NRHA Futurity Show, which was had increased entries and prize money for the sport's non pros and their three-year-old horses.
Quirky But Nice
Tish and her husband Two Million Dollar Rider/NRHA Professional Andrea Fappani purchased the gelding in April of 2009. "This horse has some quirks for sure, but he's a nice horse," Andrea said after the Scottsdale Classic open futurity last October.
Tish and Litn Up Conquistador showed together for the first time in late October at the California Challenge to get ready for the NRHA Futurity less than a month later.
"I just cruised him through in Burbank to get my butterflies out," Tish explained. "He's a funky horse, but he's really pulled through, so it's been fun to show him."
In the non pro futurity finals, Fappani drew up early in the go order, which didn't help her nerves, but she steeled herself to ride aggressively and put her faith in her horse.
"I was nervous because I was early, but he schooled well the night before, so I felt confident," Fappani said. "I knew I was going to have to go hard. I'm usually a little bit conservative, but I knew I had to go for it, and I just trusted him. I knew he was a big stopper. His weak spot was his turns, but I had to trust everything I had and just go for it. It felt great!"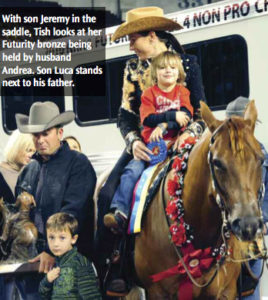 While there were many more runs to follow, no one could touch Fappani. She was overwhelmed with her first win.
I'm so happy … I don't think it's sunk in yet! I'm still numb," Fappani said excitedly as she waited for the awards to begin. "I won the intermediate non pro (level 3) a few years ago, but this is my first time to win the non pro (level 4). I wish my mom and dad were here, but they're home watching online."
Riding a horse with definite "quirks" made it tough for Fappani to give it her all, but she knew that's what it would take to post a big score.
"He's always looking around and he's just kind of funny, so I had to pretend I didn't know all that and just trust him to do his job," she explained. "He did, and it worked out for us."
Legendary Mentors
Fappani is no stranger to the reining pen. The California native has been riding and showing horses for almost as long as she can remember.
"My mom used to train horses and teach kids when I was little. I started showing on my pony when I was three," Fappani explained. "I showed a bunch on the West Coast, and my first trainer was Glen Gimple, who was like a grandfather to me. After he passed away, I rode with Linda Baker, another California legend."
In the early 1990s, trainer Brett Stone was showing reining horses at a show in Del Mar, California, where Tish got her first glimpse of the event. She was instantly intrigued, and it wasn't long before her parents bought her a reining horse from Stone.
"My parents supported me 100 percent and would always try to put me with the top trainers to give me the best opportunities," Tish said. "Brett and John Slack and then Todd Bergen taught me the basics of Reining, and I learned a lot from all of them." It was at the 1995 NRHA Futurity that Tish met Andrea. The two began dating and eventually got married. In the mean- time, Tish decided to explore a possible career as a trainer.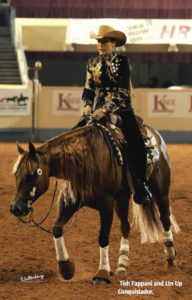 "Horses have always just been my life, so I thought I would try training," Tish said. "I worked for John and Todd for a year when they were in Arizona, and then I worked for Craig Schmersal for a year. I learned a ton from him— he's such a showman and professional. As I got older, though, I realized that training horses isn't the life I wanted for myself."
Tish left the training business, married Andrea, and even spent time working in retail when the couple lived in Oregon. She took the mandatory time away from the show pen and enjoyed building a family and business with Andrea. The couple has two sons: Luca, who is nearly seven and Jeremy, four. Now, as a non pro, Tish enjoys showing when she has the opportunity, but says she gets even more satisfaction from supporting her husband and managing the career of the stallion Big Chex To Cash.
Family Time
"I wanted to still be able to show but not have to do it full time because I enjoy being a wife and mom," Tish explained. "I like to be there and support Andrea. The biggest thing I've learned in the last four years is the breeding side of the business. It's totally different than the training end, and it's turned out to be a huge job for me. Between Andrea, the breeding business, the DVD sales, the ranch, it's a full-time job. I never expected to get as involved as I did, but I very much enjoy it."
The family has relocated from their home in San Marcos, Cal- ifornia, to Jim and Pat Warren's Rancho Oso Rio in Scottsdale, Arizona. Big Chex To Cash moved to Oklahoma to stand at stud at the Hartman Equine Reproduction Center. That will take Tish out of the day-to-day breeding responsibilities, but she plans to remain involved in his management and the communications with breeders.
"Now that he's moving, I'll get to spend more time with my kids to help them with their sports activities. The boys love motorcycles especially, so it'll be great to get to spend more time with them," she said. "Luca is in first grade, and I'm very excited about the school he's moving to. Jeremy is in preschool, and he loves to ride his pony, 'Buddy.'"
While she is one of the biggest links in Andrea's sup- port team, she credited her own support team at the NRHA Futurity for helping her capture her first non pro title there.
"I'm just so lucky to have my husband who supports me so much and our entire team that helped with the hors- es and kids and everything," she said. "I'm really, really lucky to have so many people there. My parents couldn't make it because of my mom's health, but they were so ex- cited and happy for me. My mom called me every five minutes for updates and she watched online. I'm so grateful for all the support I got from everyone!"
Weeks after her win, Fappani was still overwhelmed by her success at the show and thankful for all the lessons she learned early on from some of California's best trainers.
"All of the stuff I learned growing up on the West Coast re- ally taught me a lot. I don't really care if I have one to show, but I'm competitive enough that when I have one that I know is good I try to do well," Tish explained. "It was such a shock to me to win … I never imagined it this year. I'm still floating!"