NRHA TOTAL EARNINGS: $7,649,881+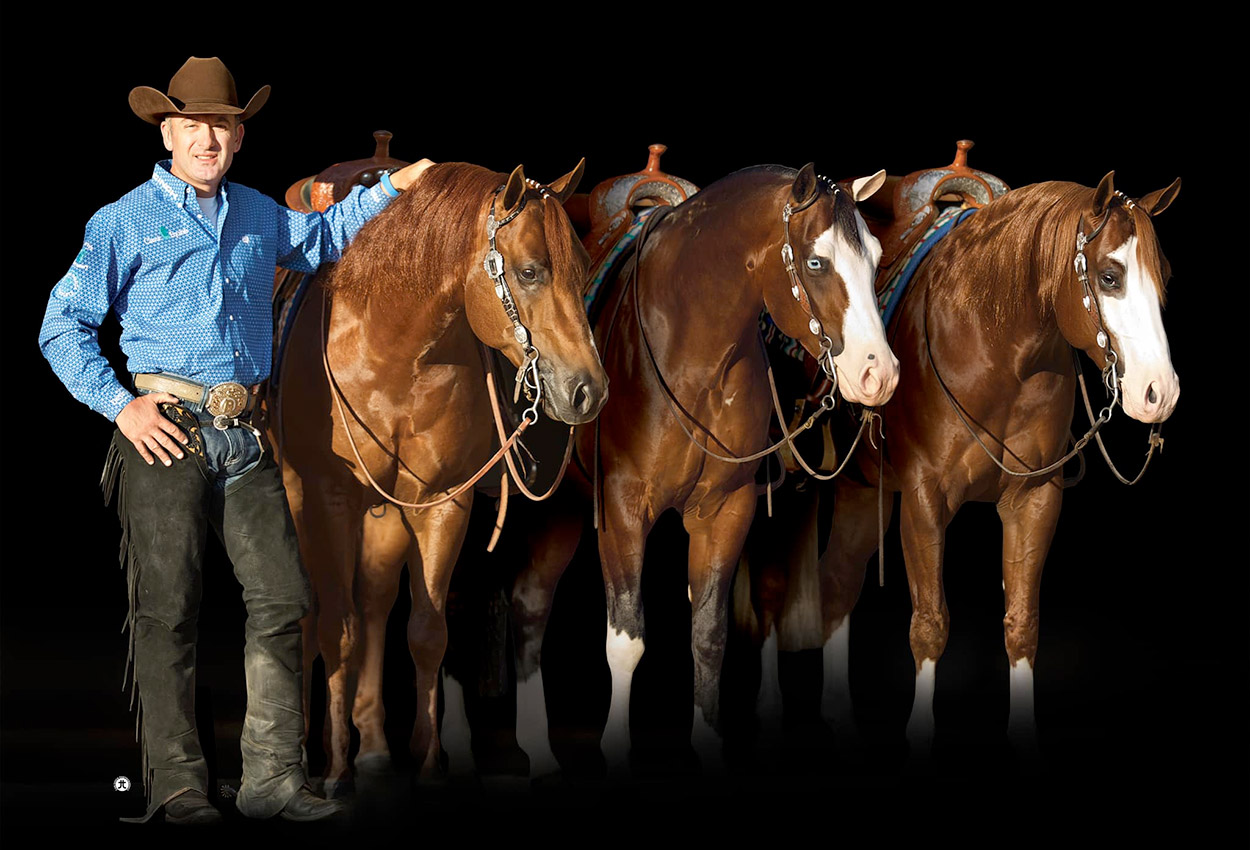 "CHAMPIONS do not become champions when they win the event, but in the hours, weeks, months and years they spend preparing for it.  The victorious performance itself is merely the demonstration of the championship character".


TECH TIPS by Seven Million Dollar NRHA trainer Andrea Fappani are the latest tools to assist you with in-depth video training. These videos will focus on the details and techniques that Fappani has used successfully in his climb to the top of the charts in the highly competitive sport of reining. His World Champion horses illustrate that Fappani has a 'system' that works with each horse. By breaking down the maneuvers into individual videos, Andrea demonstrates those proper techniques that are often overlooked or completely unknown to many riders and trainers.
FAPPANI NEWS
The latest news, tips, and stories from Seven Million Dollar rider Andrea Fappani.
""I was introduced to this product over a year and have seen great results with my horses.My horses are athletes and we expect a lot from their bodies. Their overall condition shows when I walk into the pen and that is to Equine Omega.""

Corey Smith

FoodReviewz
""I'm in my boots 12 plus hours a day. Comfort is important to me as well as quality and style. I like my boots to stand out and set me apart from others.""

Corey Smith

FoodReviewz
""I use these feeders throughout the ranch. I like that I can separate my cubes from the grain and there is no waste. I know how much my horses are eating.""

Corey Smith

FoodReviewz
"Quality and style."

Corey Smith

FoodReviewz
"From supplements to poultice, I use Finish Line products daily."

Corey Smith

FoodReviewz
"This is a newer endorsement and I really like the quality and style of these blankets. I have had the opportunity to design my own blankets and am pleased with the style and cut."

Corey Smith

FoodReviewz
"When it comes to my horses health I make no compromises. With Safe-Guard POWER Dose I know my horses are protected against predominant internal parasites of horses."

Corey Smith

FoodReviewz
"I'm a huge believe in the Corona products. I use the hoof dressing daily on my horses. Pro Manna supplies me with products I believe in and use daily."

Corey Smith

FoodReviewz
"Our feed program is very important to us. Safechoice is a versatile feed, which means I can feed it to my yearlings, show horses and broodmares. I use Empower for my show horses, which is a high calorie, low protein supplement that helps me fine-tune their condition closer to show time."

Corey Smith

FoodReviewz
""The quality and craftsmanship of Bobs Custom Saddles is superior to anything else on the market today. Every saddle is identical to one another in every detail. They will fit a wide variety of horses and put the rider in the best riding position available. That is why I ride on Bobs Custom Saddles.""

Corey Smith

FoodReviewz
""When it comes to my horses comfort and protection I use Classic Equine.""

Corey Smith

FoodReviewz
""When it comes to my horses comfort and protection I use Classic Equine.""

Corey Smith

FoodReviewz