After many days of exciting competition in Oklahoma City at State Fair Park, the National Reining Horse Association (NRHA) Futurity came to a close the evening of Dec. 3. In the end, Andrea Fappani piloted Spooky Whiz to the Level 4 Open win.
In 1997, Andrea Fappani left his mark in the National Reining Horse Association (NRHA) history books by winning the Futurity Limited Non-Pro riding Best By Tari (Taris Catalyst x Pocono Annie). He was the first European to earn a Futurity title in the most coveted reining show pen in the world!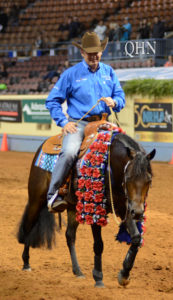 In 2001, Fappani came back to write yet another important chapter by claiming the NRHA Futurity Open Championship riding RR Star (Like A Diamond x RL Miss Kitty), owned by Lundin Farm, and then went on to claim the title again in 2011 aboard Lil Joe Cash (Nu Chex To Cash x RS Lilly Starlight) for Russel Giles.
On Dec. 3, with only one contestant left to go, the NRHA Four Million Dollar Rider once again proved his worth by reining Rancho Oso Rio LLC's Spooky Whiz, a son of Spooks Gotta Whiz out of Myo Starlight, to top honors.
The score to beat when Fappani rode in the pen was a 221 posted by both All American Quarter Horse Congress Futurity Level 4 Open Champions Franco Bertolani and Dun It For Whizkey (Topsail Whiz x Dun It For Chex), owned by Cardinal Hill Training Center LLC, and NRHA Five Million Dollar Rider Shawn Flarida riding Whiz Gata Prize (Topsail Whiz x Smart Little Prize) for owner Alberto Casasco, of Argentina.
Fappani was determined to take home his third Futurity championship and rode Spooky Whiz through NRHA Pattern No. 10, performing deep stops, fast spins and controlled transitions. He secured his third title with a 225.5.
"This is a pretty special horse. He's pretty solid; we changed our program a little bit with him, and I went pretty easy in the go-rounds, even though I knew we had a horse that could do well in the finals, although I did not know how much he would step up. I asked him and he did step up!" said Fappani, who took home the guaranteed champion's paycheck of $150,000 aboard the gelding, who was bred and nominated by Spence Bell.
Written by NRHA Press Release on .
NRHA Futurity Level 4 Open Champions Spooky Whiz & Andrea Fappani • Photo by Kelsey Pecsek